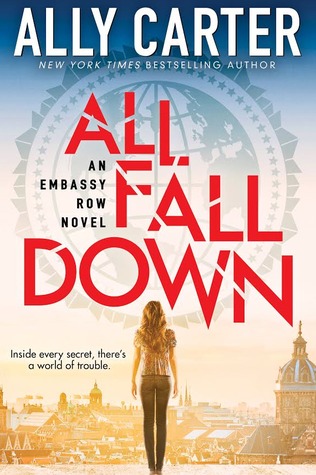 All Fall Down
By Ally Carter
Published: January 20, 2015
Publisher: Scholastic
Pages: 320
5 stars
A new series of global proportions -- from master of intrigue, NEW YORK TIMES bestselling author Ally Carter.
This exciting new series from NEW YORK TIMES bestselling author Ally Carter focuses on Grace, who can best be described as a daredevil, an Army brat, and a rebel. She is also the only granddaughter of perhaps the most powerful ambassador in the world, and Grace has spent every summer of her childhood running across the roofs of Embassy Row.
Now, at age sixteen, she's come back to stay--in order to solve the mystery of her mother's death. In the process, she uncovers an international conspiracy of unsettling proportions, and must choose her friends and watch her foes carefully if she and the world are to be saved.
Review copy provided by NetGalley in exchange for an honest review
Opening Thoughts
I went into this expecting to really enjoy it, because I have been a fan of Ally Carter for years and years, but Ally Carter's first books in series are usually not as strong as the later books. However, this book completely blew me out of the water. I adored it, and I would recommend it to anyone.
Characters
I really liked Grace. I can't say that she's my favorite of Ally Carter's protagonists, but she was very relatable. She had so much great character development. And the best part is that Grace is an unreliable narrator, which is absolutely one of my auto-buy buzz words. You can't trust what Grace is thinking, and it leads to some crazy twists and turns. Grace is sarcastic, and strong, and brave, but she lets herself be vulnerable, which was really refreshing. I did think that Grace was a little judgemental at the beginning which kind of grated on my nerves, but that faded away fairly quickly.
"I've attended seven schools in ten years," I explain. "So you can rest assured I know you. You're the girl who thinks being cruel is the same thing as being witty. You think being loud is the same thing as being right. And, most of all, you're the girl who is very, very pretty. And also very, very...common. trust me. There's at least one of you in every school." I watch her features shift. "Oh. Wait. Did you think you were unique?"

"Keep your chin up. Eventually, you will meet someone who cares about your opinion. I'm so sorry I'm not her."
All of Grace's friends were great. I think that Noah is my favorite of her friends, but I also really like Megan. Noah is funny and clever, and I love him very much. I loved that all of the side characters had a lot of depth to them, and that, since all of Grace's friends were from different embassies, the book ended up with a very diverse cast of characters. I do wish that we had seen a little bit more of Alexei, and had gotten a little bit more character development for him, but that's not really a big deal, and is something that I'm sure we will get in later books.
In addition, there's not really any romance in this book, which is great, because Grace is really not in the right state of mind to be juggling a boyfriend. There's certainly some hints of something later to come, but for the most part the relationships that develop are friendships.
"Ok," he says. "First lesson."

Noah broadens his stance, taking his place firmly on the embassy side of the threshold. "in the United States," he says. Then, with both feet, he leaps on to the sidewalk. "Out of the United States." Quickly, he jumps back toward me. "In the United States." Another jump across the threshold. "Out of the United States. In. Out. In --"

"Is this the part where I hit you?"


"Don't let the glitter fool you." She wiggles her shiny nails in the air, then taps her temple. "I'm up here"
"I see that," I say as Noah whispers a very soft, "I love you."
"What?" Megan asks.
"Nothing," Noah says, then pulls back and walks to the other side of the desk."
Plot
The plot, as always with Ally Carter, is fast-paced and addicting. The setting on Embassy Row in Adria makes for a really interesting setting and definitely sets up the potential for some really interesting conflicts in future books. I don't want to say to much about the plot, but I must say that you need to give it a little bit to get into, because it takes a little bit to start getting intense, but once it does, it gets really dark, really fast.
In conclusion, I would highly recommend this book to everyone and anyone. It's a brilliant start to what can only be another brilliant series by Ally Carter. Be sure to pick this one up!
Thanks for reading!
Amber