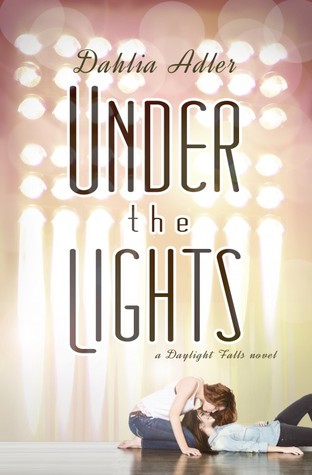 Under the Lights
By Dahlia Adler
Published: June 30, 2015
Publisher: Spencer Hill Contemporary
Pages: 312
Format: eARC
Book 2 in the Daylight Falls companion series
3.5 stars
Josh Chester loves being a Hollywood bad boy, coasting on his good looks, his parties, his parents' wealth, and the occasional modeling gig. But his laid-back lifestyle is about to change. To help out his best friend, Liam, he joins his hit teen TV show,
Daylight Falls
...opposite Vanessa Park, the one actor immune to his charms. (Not that he's trying to charm her, of course.) Meanwhile, his drama-queen mother blackmails him into a new family reality TV show, with Josh in the starring role. Now that he's in the spotlight—on everyone's terms but his own—Josh has to decide whether a life as a superstar is the one he really wants.
Vanessa Park has always been certain about her path as an actor, despite her parents' disapproval. But with all her relationships currently in upheaval, she's painfully
un
certain about everything else. When she meets her new career handler, Brianna, Van is relieved to have found someone she can rely on, now that her BFF, Ally, is at college across the country. But as feelings unexpectedly evolve beyond friendship, Van's life reaches a whole new level of confusing. And she'll have to choose between the one thing she's always loved...and the person she never imagined she could.
*Novel provided by Spencer Hill Contemporary via NetGalley in exchange for an honest review*
Under the Lights is an adorable, heartwarming contemporary that brings out all the warm fuzzies while still dealing with a lot of deep, important issues.
This is a book about two girls who fall in love, but it is so much more than just a love story. It deals with the struggle of being a minority that is in the public eye, and how to find the courage to be yourself in a society that wants you to conform to its ideas of perfection.
Luckily, this book managed to avoid the hitch that books about this subject matter often fall into of ending up sounding more like a public service announcement and less like an actual story. I was engaged in the story and I enjoyed the fluffy, romantic parts and the friendship parts just as much as the parts that dealt with the major issues.
I did have a few issues with this book but these issues didn't hinder my enjoyment of the book. I felt that Josh at times fell into the classic bad boy trope, but Adler really managed to turn that trope around towards the end of the book. I also never felt a super close attachment to the characters. I did like them, but if they had died or something, I wouldn't have been overly upset.
Overall, I really enjoyed this book. It deals with a lot of important issues, and I think that this is something that everyone should try to experience in order to broaden your horizons.
Thanks for reading!
Amber