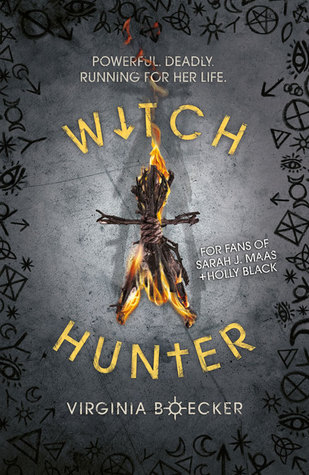 Witch Hunter
By Virginia Boecker
Published: 9/1/15
Publisher: Hodder & Stoughton
Pages: 368
Book 1 in the Witch Hunter series
0 stars
Witches, watch out... Half Bad meets
Kill Bill
in this incredible new supernatural series.
Sixteen-year-old Elizabeth Grey doesn't look dangerous. A tiny, blonde, wisp of a girl shouldn't know how to poison a wizard and make it look like an accident. Or take out ten necromancers with a single sword and a bag of salt. Or kill a man using only her thumb. But things are not always as they appear. Elizabeth is one of the best witch hunters in Anglia and a member of the king's elite guard, devoted to rooting out witchcraft and bringing those who practice it to justice. And in Anglia, the price of justice is high: death by burning.
When Elizabeth is accused of being a witch herself, she's arrested and thrown in prison. The king declares her a traitor and her life is all but forfeit. With just hours before she's to die at the stake, Elizabeth gets a visitor - Nicholas Perevil, the most powerful wizard in Anglia. He offers her a deal: he will free her from prison and save her from execution if she will track down the wizard who laid a deadly curse on him.
As Elizabeth uncovers the horrifying facts about Nicholas's curse and the unwitting role she played in its creation, she is forced to redefine the differences between right and wrong, friends and enemies, love and hate... and life and death.
The first book in an incredible new series set in a fantastical medieval world.
*Novel provided by Hodder & Stoughton via Netgalley in exchange for an honest review*
DNF at 14%
I really wanted to like this book. I was seeing rave reviews for it everywhere, and it sounded like something that I would be really interested in. Unfortunately, I found this book to be uninteresting and unengaging.
The magic in what I read was unexplained and underdeveloped, with no reason, logical or otherwise, for the ban on magic. It is possible that this would have been expanded upon later in the book had I gotten to that point, but I didn't and I feel like some explanation should have been presented in the eighty pages that I read.
The main character, Elizabeth, is what really killed the book for me. The only thing that prevented her from having pretty much no personality was the fact that she was absolutely, incredibly annoying. She is totally obsessed with her witch hunting partner, Caleb, but we never get any reasoning as to why this is, and we don't see enough of him to appreciate her affections. She's judgemental, hypocritical, selfish, shallow, and incredibly set in her beliefs and resistant to change.
The writing was decent enough, and I may have enjoyed it in another context, but the story wasn't interesting enough for the writing to carry it just on its own. I might pick up another book by Virginia Boecker if the plot interests me enough, but it'll take a lot to persuade me to do that.
Thanks for reading!
Amber