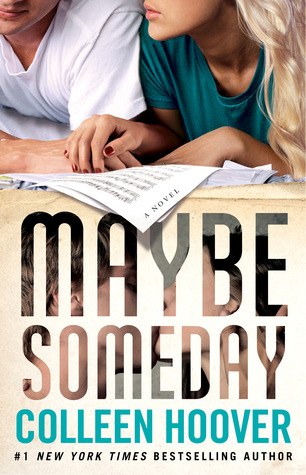 Maybe Someday
By Colleen Hoover
Published: March 18, 2014
Publisher: Atria Books
Pages: 370
At twenty-two years old, Sydney is enjoying a great life: She's in college, working a steady job, in love with her wonderful boyfriend, Hunter, and rooming with her best friend, Tori. But everything changes when she discovers that Hunter is cheating on her;and she's forced to decide what her next move should be.
Soon, Sydney finds herself captivated by her mysterious and attractive neighbor, Ridge. She can't take her eyes off him or stop listening to the passionate way he plays his guitar every evening out on his balcony. And there's something about Sydney that Ridge can't ignore, either. They soon find themselves needing each other in more ways than one.
A passionate tale of friendship, betrayal, and romance,
Maybe Someday
will immerse readers in Sydney's tumultuous world from the very first page.
My Rating: 2 stars
My Thoughts:
This book was so disappointing for me. My expectations were so high, this book has a 4.5 on goodreads, that's pretty hard to achieve. Unfortunately, this book did not resonate well with me. First of all, I didn't like the main characters, namely Ridge and Sydney. The book started off well, I liked where the plot was going, it was good. Then we found out Ridge was deaf. Now, don't get me wrong I have nothing against deaf people, but I hated the way that his deafness (is that a word? oh well, I'm using it anyway) was used. It seemed like a way to increase sexual tension, and not as like a real tangible thing, if that makes any sense. I just felt like it was pointless and I would've been happier had it not been there. My huge, ginormous, extreme problem with this book is that the whole book is about a girl and a guy who fall in love, but the guy already has a girlfriend. Now I hate cheating. I hate it, despise it, have absolutely no tolerance for it, and that's what this entire book is about. But one of the most frustrating things is that if Ridge and Sydney hadn't acted on their feelings I wouldn't have been in love with the book, but I would've liked it more. Instead, they act on their feelings, but don't think of it as cheating, and it just, it drove me crazy. I didn't know what to do with myself. There were moments that I liked, but those were few and far between. This book just wasn't my thing.