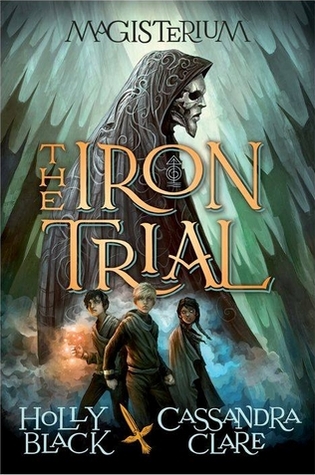 The Iron Trial
By Cassandra Clare and Holly Black
Expected Publication: September 9, 2014
Publisher: Scholastic
Pages: 304
Format: Ebook
Book 1 in the Magisterium series
5 stars
Goodreads Amazon B&N
From NEW YORK TIMES bestselling authors Holly Black and Cassandra Clare comes a riveting new series that defies what you think you know about the world of magic.
From two bestselling superstars, a dazzling and magical middle-grade collaboration centering on the students of the Magisterium, an academy for those with a propensity toward magic. In this first book, a new student comes to the Magisterium against his will -- is it because he is destined to be a powerful magician, or is the truth more twisted than that? It's a journey that will thrill you, surprise you, and make you wonder about the clear-cut distinction usually made between good and evil.
*Novel provided by Scholastic via NetGalley in exchange for an honest review*
Opening Thoughts
As many of you may know, I am a huge fan of Cassandra Clare, and while I don't share quite the same love for Holly Black, as I've only read one of her books, I really, really enjoyed the book that I did read, so when I found out that Cassie and Holly were writing a book together, I just knew that I had to have it. I saw everyone getting it at BEA, and I was crazy jealous, so when it popped up on NetGalley I requested it, of course. When I got approved, which I didn't think I would, I was ecstatic. Like jumping up and down, screaming in excitement ecstatic. And of course, this book lived up to my expectations, and surpassed them.
Characters
Callum, or Call, as he is called in the book, has such a great personality. He's funny and witty, even though he has a bum leg, and is kind of a social outcast. He's sarcastic and self-deprecating, without being bitter, which could have easily happened. He's been taught since he was a child that the Magisterium is a horrible place where they don't care what they do or who they hurt to do what they want. Call tries to fail his Magisterium entrance exam because of this. Of course, he gets in, and he finds that maybe it's not as bad as his dad always made it out to be.
Aaron is that kid that everyone likes, the super popular one. Fortunately, he was a lot deeper than that stereotype usually is. He's supportive and loyal to both Tamara and Call, and really anyone that he cares about. He'll believe in you even if no one else in the world does, which made him a really great character.
I didn't really like Tamara at the beginning of the book, she seemed kind of cold and stuck-up. She did develop a personality though, and she warmed up to Aaron and Call soon enough. Tamara is that really, really smart kid that comes from a family that puts a lot of pressure on her to be perfect. She comes from a whole family of wizards so she knows every tip and trick in the book on shortcuts for magic, how to pass your Magisterium exams, and everything else that you could ever want to know.
The three of them are such a wonderful team, and they all compliment each other perfectly. They are very much the Harry, Ron, and Hermione trio, though don't let that turn you off because there really are tons of differences. Really. I just can't tell them to you because spoilers. I must say that I am really excited to see how this trio develops over the next four books.
Plot
Cassandra Clare and Holly Black have created another fantastical world that I can't wait to explore every little nook and cranny of. Their writing compliments each others perfectly and I couldn't even tell when one author was writing and when the other one was writing, as I usually can when books are written by two authors. The plot was fast-paced and exciting, without the usual first book lull that most fantasy series have. There was lots of world-building but it was woven in subtly and cleverly, so that you didn't even realize how much they were building up the world until you were done with the book and realized how much you knew. There were some absolutely fantastic plot twists that I never, ever saw coming.
Overall, it was another brilliant creation by two writing masterminds. Don't let any Harry Potter similarities turn you off, because other than the magic school, and two boys and a girl trio, they're nothing like each other.
Thanks for reading! Are you exited for this book?
Amber