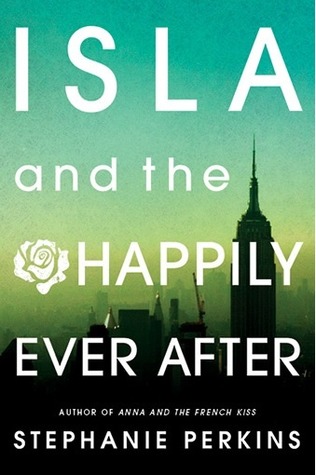 Isla and the Happily Ever After
By Stephanie Perkins
Published: August 14, 2014
Publisher: Dutton
352 Pages
5 stars
Love ignites in the City That Never Sleeps, but can it last?
Hopeless romantic Isla has had a crush on introspective cartoonist Josh since their first year at the School of America in Paris. And after a chance encounter in Manhattan over the summer, romance might be closer than Isla imagined. But as they begin their senior year back in France, Isla and Josh are forced to confront the challenges every young couple must face, including family drama, uncertainty about their college futures, and the very real possibility of being apart.
Featuring cameos from fan-favorites Anna, Étienne, Lola, and Cricket, this sweet and sexy story of true love—set against the stunning backdrops of New York City, Paris, and Barcelona—is a swoonworthy conclusion to Stephanie Perkins's beloved series.
I have to say that this is my favorite of the Stephanie Perkins book. It made me laugh, it made me cry, it made my heart sing with joy at the same time as it broke it. I loved Josh in Anna, and the one reference to Isla in Anna made me so excited when I was anticipating this books release for forever.
*Beware of minor spoilers*
I know that a lot of people don't like this book, which doesn't make any sense to me because I thought it was fantabulous. I think that I could relate to the problem causing their relationship issues the most. The idea of not being good enough/not deserving the person that you love breaks my heart, and I think that it's something that everyone questions at one time or another, whether it's romantic or platonic love. I know that I have. Also, since both Anna and Lola had pretty high self esteems, I thought it was really interesting to see Perkins explore a character with a low self esteem, because that is something that so many teenager suffer with, and it isn't addressed nearly enough. I also loved that Isla and Josh were together so early on in the book. In all her other books, the characters took their sweet old time in getting together, sometimes even waiting until the very. last. page. *cough, cough, Isla, cough, cough*
Overall, another wonderful Perkins book that didn't disappoint in the least. I'd recommend this to absolutely anyone.
Thanks for reading! Have you read this book? Are you a Perkins fan?
Amber