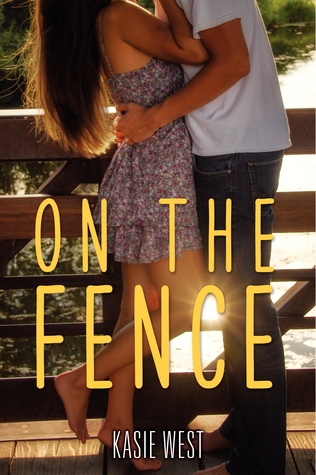 On the Fence
By Kasie West
Published: July 1, 2014
Publisher: Harper Teen
296 pages
5 stars
For sixteen-year-old Charlotte Reynolds, aka Charlie, being raised by a single dad and three older brothers has its perks. She can outrun, outscore, and outwit every boy she knows—including her longtime neighbor and honorary fourth brother, Braden. But when it comes to being a girl, Charlie doesn't know the first thing about anything. So when she starts working at chichi boutique to pay off a speeding ticket, she finds herself in a strange new world of makeup, lacy skirts, and BeDazzlers. Even stranger, she's spending time with a boy who has never seen her tear it up in a pickup game.
To cope with the stress of faking her way through this new reality, Charlie seeks late-night refuge in her backyard, talking out her problems with Braden
by the fence that separates them. But their Fence Chats can't solve Charlie's biggest problem: she's falling for Braden. Hard. She knows what it means to go for the win, but if spilling her secret means losing him for good, the stakes just got too high.
I loved this book. So. Much. Kasie West writes the best friends romance so beautifully. This book is impossible to put down, and many people, myself included, have had to stay up until the wee hours of the morning in order to finish it. Luckily, it's only just under 300 pages, so it doesn't take too long, but it's only been two and a half months since I read it and I'm already dying for a reread.
I loved the family dynamics in this book. I've always adored the overprotective older brother character, like all of Rachel's brothers in Crash Into You, and this book comes complete with three older brothers, and one honorary older brother. There were realistic punishments for breaking the rules, and the characters had reasonable restrictions, so no absentee parents here.
The romance is slow and sweet and awkward, and it bubbles up over the course of the book. It's about the main character realizing that even though she loves her love interest as a member of her family, she also loves him in a romantic way, even though they never actually use the word 'love'.
Yet another thing that I loved was that the main character realized that she didn't have to change her personality to get a guy to like her. She can like sports, and play sports, and get all rough and tough with the guys, and that's okay, and there are guys that will like her like that. I think that's a really important lesson for girls, especially teenagers, that you don't have to change yourself for anyone.
Overall, the one of the best contemporaries I've read in ages. I would recommend this to anyone that's craving something that they're going to get hooked on fast, and aren't going to be let go, even after the book is finished. It's the perfect book to get out of a reading slump, and it's definitely on par with the likes of Stephanie Perkins.
Thanks for reading! Have you read this book? What did you think? What's your favorite contemporary (or list if, like me, you can't choose just one)?
Amber