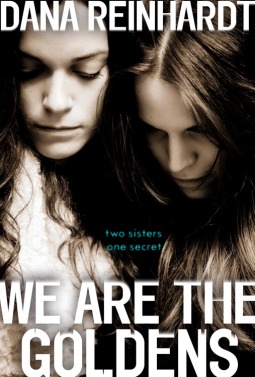 We Are The Goldens
By Dana Reinhardt
Published: May 27, 2014
Publisher: Wendy Lamb Books
Pages: 208
Nell knows a secret about her perfect, beautiful sister Layla. If she tells, it could blow their world apart.
When Nell and Layla were little, Nell used to call them Nellayla. Because to Nell, there was no difference between where she started and her adored big sister ended. They're a unit; divorce made them rely on each other early on, so when one pulls away, what is the other to do? But now, Nell's a freshman in high school and Layla is changing, secretive. And then Nell discovers why. Layla is involved with one of their teachers. And even though Nell tries to support Layla, to understand that she's happy and in love, Nell struggles with her true feelings: it's wrong, and she must do something about it.
*Novel received from NetGalley in exchange for an honest review*
My Rating:
3.75 stars
My Thoughts:
This book is about bonds between people, familial, romantic, and friendly. Yes, there's some other stuff that goes down, but overall, it's about bonds. It does focus mainly on the bond between Nell and Layla but there are so many different inds of bonds that are explored in this book.
Now, I have a younger sister and I love her, but she is one of the most annoying people I know, so I could definitely relate to Layla getting annoyed with the way that Nell was constantly tagging along and she wanted to know every single detail about every single aspect of Layla's life, and as an older sister, I was getting irritated with her as well.
I really liked that, though this story has been done over and over and over again, the story of a girl whose in high school who falls in love with one of her teacher, administrators, etc. and they don't think that it's wrong and it's just that no one understands how they feel, and that their love is real and true, and it will stand the test of keeping it a secret, I felt that Dana Reinhardt brought a really unique twist to it by narrating the story from Layla's younger sister, Nell's perspective, someone who's on the outside, not in the relationship and can see that it's wrong.
The plot overall was pretty bland. I was never hooked, and I never felt like I couldn't put the book down but it is super short, just over two hundred pages, so I did manage to read it in the span of a couple of days, whilst reading a few other books as well. I did feel that Dana Reinhardt handled the subject matter very well and I was very pleased with the way the book ended, and the conclusion that Nell came to, even if it took her forever to come to it. This book didn't really have much of a plot, I mean it did and didn't at the same time. It's definitely more of a kind of self-discovery book, but it's not even really that, though that's probably the closest that I could come to putting it into a category, because this is just one of those books like Eleanor and Park that are nearly impossible to fit into a category. There weren't any big plot twists, the author didn't really rely on the shock factor to draw you in. This book has a dark, morbid feel to it from the very beginning that sparks your curiosity and makes you want to see where the book is going.
Nell's voice was really realistic for her age, as well as the things that she struggled with. She didn't quite have that brash, I'm going to do whatever the hell I want attitude of a sixteen, seventeen, eighteen year old, but she wasn't still in that timid, follow all the rules manner of a child. Her loyalty to her sister had her conflicted between doing what her sister wanted, and doing what Nell thought was right for Layla, but in the end I think that she made the right decision, though I wish that we had gotten two or three more chapters to see the results of that decision play out.
I loved the role that Layla and Nell's parents played in their lives. That relationship was very realistic, especially with one parent being the "responsible one" and the other parent being the "fun one". However, they were both involved in the girls' lives, if not to the extent of most realistic parents, but still more than most parents in YA. Felix's relationship with Nell was amazing. I was so excited to see a book in which a guy and a girl can be just friends, up until the very end where that kind of died. But until then, it was great, even though some of the things they did I thought took their relationship a little bit past friends, even if they didn't actually feel that way. Like, they kiss each other on the lips? I don't know about you, but my guy friends and I don't kiss.
Overall, I thought this was a very good book. I had some issues with it but they were easily overlooked for the most part. I loved that the book was written in second person point of view, because it's not something you see very often, even if it became hard to follow at times. I'd recommend this to fans of We Were Liars by E. Lockhart.
Thanks for reading!
Amber