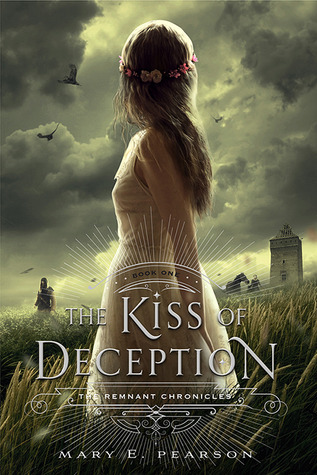 Kiss of Deception
By Mary E. Pearson
Published: July 8, 2014
Publisher: Henry Holt and Co.
Pages: 489
Format: Hardcover
Book 1 in The Remnant Chronicles
5 stars
In this timeless new trilogy about love and sacrifice, a princess must find her place in a reborn world.
In a society steeped in tradition, Princess Lia's life follows a preordained course. As First Daughter, she is expected to have the revered gift of sight—but she doesn't—and she knows her parents are perpetrating a sham when they arrange her marriage to secure an alliance with a neighboring kingdom—to a prince she has never met.
On the morning of her wedding, Lia flees to a distant village. She settles into a new life, hopeful when two mysterious and handsome strangers arrive—and unaware that one is the jilted prince and the other an assassin sent to kill her. Deception abounds, and Lia finds herself on the brink of unlocking perilous secrets—even as she finds herself falling in love.
Opening Thoughts
I saw the summary for this book about a week before it was released, and I was instantly intruiged. Then I started to see tons of great reviews popping up in the week following it's release, and I decided that I absolutely had to pick it up. I don't regret it at all. This book was utterly fantastic. I loved it so much, and that cliffhanger makes me want the sequel ten times more than I would have without it. I had seen Mary E. Pearson's
Adoration of Jenna Fox
floating around, but I hadn't heard too much about it. I don't really know what it's about but reading this book definitely made me want to read that one.
Characters
Lia was a
great
character. She isn't the physically strongest of characters, but she has a determination that is very admirable. She is very fierce and she's determined to lead a life that she controls and not let other's decide her fate. At the beginning of the book, she runs away on her wedding day in order to escape an arranged marriage to the prince from a kingdom that Lia's kingdom is trying to make an alliance with. Lia travels with her maid, Pauline through the woods for about two weeks before reaching the small, but bustling town of Terravin, where Pauline had spent her young childhood, and they both get jobs in the inn belonging to Pauline's aunt, Berdi. Lia is tasked with doing things that she, being a princess, has never done before, such as serving people in the tavern and chopping vegetables. One would expect her to be reluctant to complete these tasks, and disdainful of the people that do this for a living, but instead she attacks that tasks with a vigor, and goes far above and beyond what anyone expected her to do. She never once complains, instead relishing in the normalcy of her duties.
I don't really want to say too much about the prince and the assassin, because for the first three hundred pages, you don't know who the prince and the assassin are. You know that there are these two men, one of whom is the prince and one of whom is the assassin. I am proud to say that I was able to guess which man was which. I know that there were a lot of people that weren't able to guess, so I was ecstatic when I found out that I was right. It wasn't the kind of thing where I wish that I hadn't guessed it because, though it is a huge twist, it doesn't ruin anything if you're able to guess. There is a slight love triangle, but when I say slight, I mean
slight
. Like practically nonexistent. So if that is something that is preventing you from picking this book up, as I fear that it might, pick it up. Trust me.
Plot
This book's plot is kind of in two parts. The first part of the book has more of a historical fantasy feel, in which we're being introduced to all of the characters, and the world. Then, just over halfway through, Mary E. Pearson brilliantly executes a switch to an epic quest. Things kind of become a bit chaotic after that, but don't let that turn you off. Everything flows together really nicely, and it never drags. Even though just hearing about what happens during this part of the book may seem a bit boring, Mary E. Pearson is such a fabulous writer that she manages to keep everything very distinctive. Everything was so unpredictable and I was constantly being shocked at the twists that Mary E. Pearson managed to come up with. Mary E. Pearson's writing is so beautiful and lyrical, reminiscent of Lauren Oliver's writing, but more engaging, and keeps you more wrapped up in the story. I felt that her writing was very fitting for the historical fantasy feel of the novel.
Overall, this book was amazing. I'd recommend this to anyone, especially if your a fan of fantasy, though I really think that anyone could enjoy this, so even if fantasy isn't really your thing, I urge you to pick it up. This reminded me a lot of Sarah J. Maas's
Throne of Glass
, just in very abstract ways though, because the plots really aren't similar at all. I'm going to cut this review off now, because I'm trying not to gush, but let me tell you that this book is great and I can't wait for the second book in the series,
Heart of Betrayal
!
Thanks for reading!
Amber