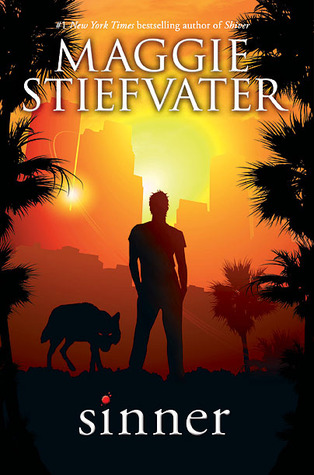 Sinner
By Maggie Stiefvater
Published: July 1, 2014
Publisher: Scholastic Press
Pages: 368
Format: Ebook
Book 3.5 in the Wolves of Mercy Falls series
4 stars
Goodreads
I
Amazon
I
B&N
A standalone companion book to the internationally bestselling Shiver Trilogy.
Sinner follows Cole St. Clair, a pivotal character from the #1 New York Times bestselling Shiver Trilogy. Everybody thinks they know Cole's story. Stardom. Addiction. Downfall. Disappearance. But only a few people know Cole's darkest secret -- his ability to shift into a wolf. One of these people is Isabel. At one point, they may have even loved each other. But that feels like a lifetime ago. Now Cole is back. Back in the spotlight. Back in the danger zone. Back in Isabel's life. Can this sinner be saved?
*Novel provided by Scholastic Press via NetGalley in exchange for an honest review*
Opening Thoughts
It has been ages since I read the Wolves of Mercy Falls series, which is a kind of prequel to this book. However, I can assure you that Sinner can be read separately from the Wolves of Mercy Falls series, and I would actually recommend just skipping the Wolves of Mercy Falls, and going straight on to Sinner. Like many people, I continued reading the Wolves of Mercy Falls series purely because of Cole and Isabel, who this book focuses around, because they were really the only interesting characters in series. They weren't amazing characters, I still don't think that they're amazing characters, but they were interesting. Knowing that, I was intrigued by Sinner, but I wasn't planning on spending my money on it. But, I was very excited when I received an email from Scholastic saying that I had been approved for a review copy of the book.

Characters
Cole is still somewhat of an arrogant asshole, though I must say that he is quite subdued compared to how much of a jerk he was in Shiver. Despite the fact that he was kind of a jerk, he could still be charming and sweet and he made me laugh out loud several times. I definitely have a very love-hate relationship with Cole, half the time I'm all for Cole, and everything working out for him, but there were other times where I wanted to slap him because he kept messing everything up for himself. I know that he means well, especially when it comes to Isabel, but I swear to God, he is a frustrating character! He's grown and changed a lot since Shiver, he's a more mature character, still very frustrating and immature at times, but he has matured.

Isabel can be a bit psychotic at times. She has a quick wit, and can be very cold and closed off at times, so you don't realize how much she's hurting on the inside until you read from her point of view. I respect her because she doesn't take crap from anyone, regardless of whether they're an authority figure or not, but I also get kind of annoyed with her at times for her inability to operate as a normal human being, which makes her an interesting character, yes, but I ca't say that there weren't times when I was sick and tired of it. I do appreciate that Isabel doesn't sugarcoat the fact that a lot of the time, life sucks. And it really sucks that life is like that, but it is and there isn't anything that anyone can do about it.
On a side note, I really loved Leon. He provided a lot of humor for a side character.
Plot
This book is definitely more of a contemporary than a paranormal. The only paranormal aspect in this book is the fact that Cole is a wolf, but that is just another issue added to his inner turmoil, which is what this book mainly focuses on. It's a hugely character driven story. It is mostly focused on the inner struggles of Cole and Isabel, which obviously means that there isn't a whole lot o plot, but it still keeps you engaged and interested.
Overall, it has the classic, beautiful writing that I admire Maggie Stiefvater for, with a story about broken humans, instead of wolves. I really enjoyed this book and I'd recommend it to anyone who liked Cole and/or Isabel in Shiver, or anyone who enjoys contemporary.
Let me know in the comments if you've read the book! Did you enjoy it?
Thanks for reading!
Amber